Top Five Design Trends to Watch in 2018
A new year is a great time to look ahead, make plans and predictions of things to come. In the kitchen and bath industry, leading trends from the past year are still going strong into 2018. Metallic finishes and organic colors are trending along with innovative shapes and silhouettes. The Art Deco movement enjoyed a resurgence and we expect that trend to continue with the retro vibe gaining influence and bringing a fresh twist to classic designs. It's an exciting time to be in the decorative industry as leading brands continue to raise the bar when it comes to innovative design and customization! We look forward to seeing these trends develop making this year one to remember!
Clean Lines & Art Deco Design
Trends may come and go, but great design is in perpetual demand. This is especially true in the luxury bath industry where exceptional design is both expected and sought-after. Fortunately, the industry is teeming with an amazingly diverse array of products that exemplify the best elements of exceptional design, including clean lines and a vintage art deco influence.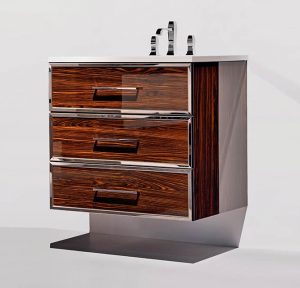 With its sleek modern vibe, the Riva 406 vanity from The Furniture Guild is a perfect example of this type of motif. It is available in seven configurations, including single and double basins, with sizes ranging from 24 inches to 96 inches. Each unit comes with three drawers, and up to three units can be joined together for expansive counter space and storage. The selection of finishes runs the gamut from beautiful wood textures to dramatic lacquers. The Furniture Guild provides customers with multiple customization options and solid construction, so each finished piece is a one-of-a-kind masterpiece. www.thefurnitureguild.com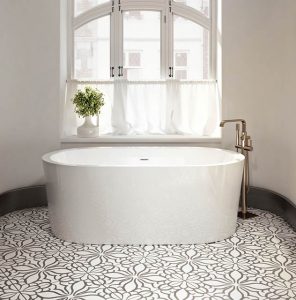 BainUltra's Nokori Oval 6737 is an oval-shaped iteration of a geometric line of freestanding baths that represents the epitome of contemporary elegance. The exterior of the tub is notable for its absence of ornamentation, while the interior has been smartly designed to accommodate two bathers in total comfort. Measuring 67" by 37" by 24", the tub holds an impressive 66 gallons of water for an immersive soak. Crafted exclusively of durable white acrylic, the tub has a seamless appearance and a beautiful made-to-last finish in a choice of glossy or UltraVelour, a new matte finish exclusive to BainUltra. www.bainultra.com
Going Greenery
Greenery continues to be the accent color of choice in home design. This zesty shade of yellow-green sets the stage for designs inspired by the lush colors of nature. This beautiful hue has influenced the evolution of other related trends in the industry, including an elegant aesthetic that emphasizes clean lines, a desire to use pops of color (green) in singular ways, the desire to incorporate natural elements, and a renewed dedication to eco-friendly products and technology.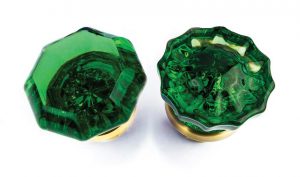 Nostalgic Warehouse makes it easy to make a memorable entrance to any bathroom with their extraordinary crystal doorknobs and heirloom-quality hardware. Available in brilliant shades of emerald green, cobalt, pink and black, these authentic crystal knobs add a bit of sparkle and drama to any décor. The colorful crystal knobs are available in two of the company's most popular styles – the Crystal and the Waldorf – and may be mixed and matched with 12 different plates in designs ranging from elaborate scrolls to simple rosettes. The hardware is meticulously crafted from hot-forged brass, providing a strong, durable surface for intricate design work. www.nostalgicwarehouse.com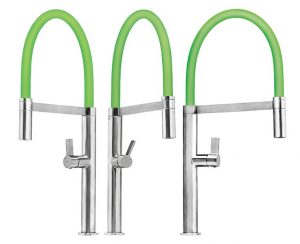 Ruvati brings a colorful vision to the kitchen with its Ibiza faucet, complete with brilliant silicone sleeves. Eye-catching on its own with a sleek arched design, the Ibiza comes with three sleeves in Pure White, Jet Black and Ruby Red. Also available are options in Ocean Blue, Navy Blue and Coral Pink. The sleeves slip easily on and off the faucet, making it simple to change colors according to mood or special events. The silicone is extremely durable and made to withstand the rigors of today's busy kitchens. The faucet itself is crafted from high quality stainless steel with zero lead content and a solid finish that won't crack or peel. Created by designer Jeremy Layne, the Ibiza faucet measures 20-1/2" tall with a flexible pull-out spout. www.ruvati.com
All Shaped Up
One design theme that is rapidly gaining new followers is an appreciation for unusual shapes. Many top designers and manufacturers in the industry are experimenting with new shapes, silhouettes and proportions as they look for ways to raise the bar for fresh product lines. It's all about creating visual interest and taking modern product designs to the next level in terms of style and innovation.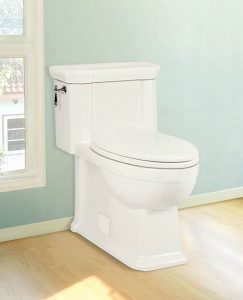 ICERA appreciates the beauty of clean lines as evidenced by the chic look of its new Richmond II toilet with a fully skirted bottom. A redesigned version of one of its most popular toilets, the Richmond II offers a transitional style that works well in any décor. A teardrop lever adds a touch of elegance, while the elongated bowl and one-piece design compliment the sophisticated vibe. The inner workings of the Richmond II are true to ICERA's superior plumbing standards, including a high-efficiency design with a fully glazed trapway and its signature EcoQuattro flushing system that combines flushing power, exceptional cleanliness and minimal water usage. www.icerausa.com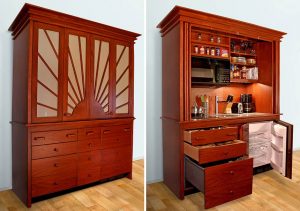 YesterTec embraces the functionality of geometric design with its ingenious freestanding kitchen workstations. Its UK66-LE mini-kitchen has an impressive rectangular design from the outside, similar to a handsome armoire. But inside are a multitude of smaller shapes — drawers, shelves and bins. There's a 120 V induction cooktop, a sink, a solid surface countertop, and options for dishwasher, garbage disposal and refrigerator. These hand-built kitchen stations are a great solution for studio apartments, game rooms and guest suites, and include standard UL Listed safety features. yestertec.com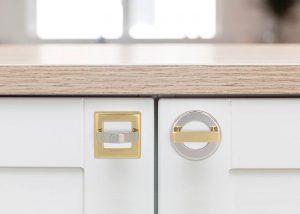 The new Tableau Collection by Atlas Homewares is inspired by a modernist take on classic geometry. It allows end users to truly unleash their creativity. The pieces come unassembled with shapes and finishes that can be mixed and matched to suit any décor or style preference. The end result is a custom configuration that celebrates clean lines and artistic freedom. The Tableau Collection features round or square bases that work interchangeably with rectangular or arc handles. Choose from three sizes and three beautiful finishes, including Polished Nickel, Brushed Nickel, Polished Chrome and French Gold. www.atlashomewares.com
The WOW Factor
"Less is more" has been a popular design mantra, with increased attention paid to monotone palettes featuring one fabulous fixture that makes the entire space memorable. While the style of home design seems to be simplifying, new products are increasingly advanced when it comes to style and sophistication. Today's designers have a knack for creating streamlined designs and then adding a touch of drama to reflect the style of the homeowner. The secret to pulling this off is a well thought-out design plan and innovative products that deliver that oh-so-elusive wow factor.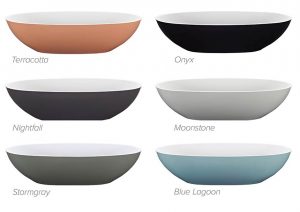 Nothing adds style to a space like an unexpected splash of color. MTI Baths greatly expands the color palette in the bathroom with six new organic hues inspired by the earth, sea and sky. Available on a select number of tubs and vessel or semi-recessed sinks, these elegant exterior colors have names that capture the essence of the outdoors, including Blue Lagoon, Nightfall and Moonstone. Offered in a matte or gloss finish, these modern shades of earthy colors are seamlessly combined with selected models from MTI's Boutique line of products manufactured in luxurious SculptureStone. mtibaths.com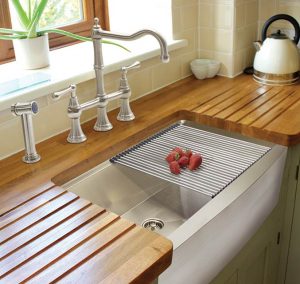 Lenova defines a dramatic focal point for the kitchen in the form of its new PermaClean Apron Front Ledge Prep Sink. Offering a modern twist of a classic look with sleek lines and a graceful 10-inch bowed front, this phenomenal sink is a true workhorse in today's kitchen. Available in a single or double bowl configuration, one of the most notable aspects of the sink is its engineered platform ledge that allows it to easily convert to a food prep center when accessorized with an optional stainless-steel colander, roll-up grid drainer, and bamboo cutting board. Crafted from durable commercial-grade 304 stainless steel, the sink features Lenova's PermaClean drain system that eliminates unsightly drain lines and creates a more sanitary high-end look. www.lenovasinks.com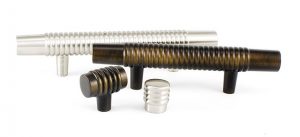 DuVerre blurs the line between form and function with its new Stacked Collection of cabinet hardware. Created as an original work by renowned Irish designer Clodagh, Stacked is crafted from eco-friendly recycled aluminum and celebrates all that is contemporary, tactile and luxurious. This singular hardware is a perfect example of incorporating unexpected elements into a larger design scheme to produce an extraordinary finished look. The collection is available in oil-rubbed bronze and satin nickel, with each piece finished by hand for a one-of-a-kind finished look. www.duverre.com
It's All About the Brass!
The re-emergence of brass, bronze and gold tone finishes is among the top home design trends. Not since the heyday of the 90's has brass been so prevalent in interior design. Today's brass is an intriguing interpretation of a retro style that is fresh and modern yet still classic and elegant. Brass and gold-toned finishes offer a traditional look that brings warmth to any room. They also pair well with other "cold" metals such stainless steel or nickel, and they're especially pretty with crystal accents.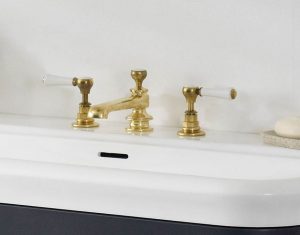 Victoria + Albert has recently unveiled a gorgeous Unlacquered Brass finish available exclusively on their Florin and Staffordshire faucet collections. Known as a "living finish," Unlacquered Brass ages naturally by developing a unique patina over the lifespan of the fixture. The absence of a protective lacquer allows the durable solid brass to gradually darken and reveal subtle undertones of color and texture. Victoria + Albert developed the Unlacquered Brass finish in response to rising requests from customers, who have been delighted with the refined style of the new finish and the opportunity it offers to create an evolving look that is uniquely their own. vandabaths.com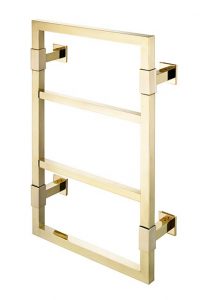 The Sterlingham Company offers its own take on the brass trend with a modern and minimalist towel warmer. Their new Arley features a space- saving wall-mounted design offered in electric, hot water or dual fuel. Available in custom sizes, configurations and finishes, standard finish options include a beautiful polished brass and antique gold. Featuring Sterlingham's patented low-energy design, the Arley's exceptional quality and elegance makes it a beautifully practical accent in any contemporary décor. sterlingham.co.uk
There's much to look forward to in 2018 as the kitchen and bath industry works through these evolving trends. The products and designs featured here are certain to provide great value and enjoyment for years to come. We can't help but wonder what new design trends will reveal themselves in the months ahead. Be sure to stay tuned for even more trend analysis!