by: Linda Jennings, CEO/Founder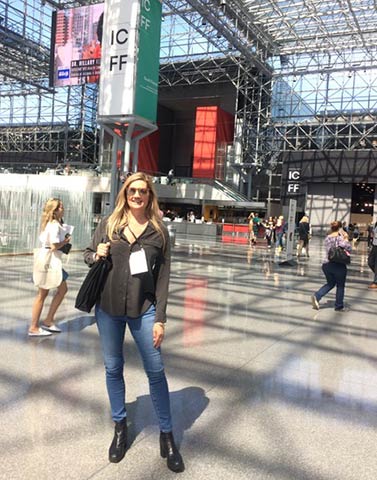 There's a reason interior design fans eagerly await the annual International Contemporary Furniture Fair. It is quite simply THE quintessential design event of the year – an iconic showcase that presents the latest modern furnishings and interiors in a whirlwind four-day event in the heart of New York City. This year marked the 30th anniversary of ICFF, and the show more than lived up to this milestone with an extraordinary gathering of 900 exhibitors from around the world. It was a glorious opportunity to meet top design professionals, experience the most venerated brands in the industry, and admire the newest innovations the design world has to offer. Here's a brief recap of some of our favorite booths, although it's difficult to narrow the list to just a few.
Victoria + Albert
British brand Victoria + Albert Baths chose the ICFF venue to unveil their newest freestanding bath called Pembroke. Designed in partnership with Italian design house Meneghello Paolelli Associati, this transitional tub offers a clever blend of gentle curves and crisp lines. Its sleek silhouette lightens towards the base and offers a pleasing roundness along with a dual-ended design that is roomy enough for two bathers. Like all Victoria + Albert tubs, the Pembroke is crafted from ENGLISHCAST®, the company's proprietary composite of Volcanic LimestoneTM and high- performance resins that is extremely durable and easy to maintain.
Gessi
Gessi revealed the results of its collaboration with famed architect David Rockwell by introducing the extraordinary Inciso Collection at ICFF. Embodying the best of Italian design and American style, this contemporary faucet collection is striking in its simplicity and elegance. Sculpted contours combine with smooth surfaces and raised patterns to create a remarkable series of architectural fixtures with a vintage-yet-industrial feel. Another Gessi innovation that captured attention was their iconic Rettangolo tap ware. This sculptural collection transforms a simple rectangular shape into works of art in a range of stunning finishes, including copper, chrome and mirrored steel.
The Furniture Guild
The Furniture Guild mixed styles and mediums to produce a stunning new bathroom vanity to display at the show. Their Henley freestanding vanity combines a modern sensibility and traditional vibe to create a stand-out presence in the bathroom. Metal accents in brass or polished nickel add interest and glam around the doors, base and on the optional square cap feet. Three full- height doors give the piece a clean, minimalist look while cleverly concealing drawer pullouts for easy access to ample storage.
ICFF 2018 was an incredible event that fueled the imagination with new possibilities for interior design. As always, it was a wonderful opportunity to see the best of the global design industry up close and definitely a source for future inspiration. Here's to another successful show and to the next 30 years!